World Book Night – Population 485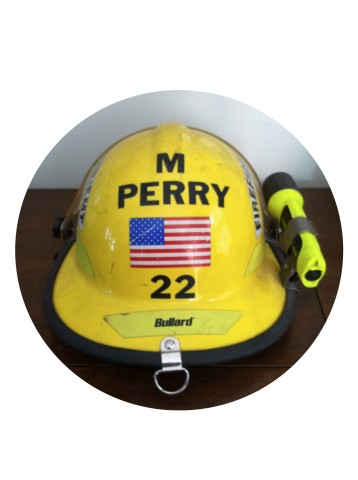 The purpose of this post is to offer my heartfelt thanks to those of you (both givers and readers) participating in World Book Night. After the word went out and givers started signing up, I quickly realized I couldn't manage to personally thank everyone in the manner they deserved, so I hope this post will go a little way toward doing that. Notes, photos (including the Beagle's tattoo!), and a video after the break.
Population 485 is basically that old "can you go home again?" book. It's been written many times, from many perspectives. In my case, I wrote about returning to my hometown of New Auburn, Wisconsin, after a 12 year absence and rediscovering the place and the people by joining the local volunteer fire and rescue department. "Oh, you must be very brave and noble," folks say, and I reply, "No, I had a pulse and a valid driver's license. And I was home a lot during the day. Plus, my two brothers and my Mom were already on the department. So there was peer pressure."
For me, one of the lasting joys of Population 485 is when I'm somewhere far from home and someone says, "Your town is just like our town." No matter how personal and regionally specific you get, you find that some things are universal. My favorite example? In Population 485 I write about my friend and fellow firefighter Bob the One-Eyed Beagle. Bob is a cross-eyed butcher. I was on book tour Mississippi when a man put his book down for me to sign, then leaned in real close. "Well," he said, "Whaddya think?" First I saw the Maltese cross on his satin jacket, which told me he was a volunteer firefighter. Then I noticed he was very cross-eyed. Then he said, "And I'm a butcher!"
Wherever you go, I say, the accents and the number on the signs change, but the people are the same.
There's a chapter in Population 485 called "My People," and it's the most difficult thing I've ever written. Not difficult in any painful sense, but difficult because I so wanted to get it right. I don't know if I did, but that chapter expresses why I'm so honored and grateful that the book was chosen for World Book Night. There is this idea that only certain types of people belong in certain places, and that only certain types of people would be interested in art, or dance, or reading books, and World Book Night actively works to change that.
Many things have changed since Population 485 was published. The population went up to 562, then came down a notch. The old silver water tower is gone, replaced by a newer spheroidal model, and these days there are lights on the softball field. A boom in sand mining has created both opportunity and opposition, and most of us have friends and relatives in both camps. No matter how you feel, one thing is certain: The trains are stopping in New Auburn again.
And the fire trucks are all still yellow.
I moved to a farm in a different fire district in 2007. But I still get up to "Nobbern," and last Jamboree Days I hung out in the beer tent (now a beer barn!) with the Beagle, and we shot the breeze just like always. No matter where I'm standing when I say it, I am blessed to be from and of New Auburn, Wisconsin. And apart from that part of my heart reserved for my wife and children, the single most meaningful privilege I've ever experienced was to stand beneath that yellow helmet up there at the top of this post and serve for 12 years beside my neighbors as a member of the New Auburn Area Fire Department.
Thank you to all World Book Night volunteers, and thank you to any and all who pick up a book and give it a read. Below is a video and a few photos I hope will enhance the experience.
The Beer Tent Story

PHOTO GALLERY