Among the more humbling (and recurring) ironies of calling oneself a "writer" resides the regular recognition that one is regularly incapable of finding words commensurate to circumstance, be there joy or grief, or–as in this instance–thanks to give. In other words, ain't no way to say it. But you have to try. So, from the program:
First, I thank the director, cast, and crew. Without them, I'm just scribbling in the dark. I've never tried to put a book onstage before. First thing you learn is, the whole thing just won't fit. So you cut and rearrange and maybe turn two firefighters into one firefighter, and then you cut some more. And then some more. As a writer, I don't mind cutting my own work. In fact, I am merciless in that regard. But Population 485 is a book about real people. Real people I care about. People who raised me. People with whom I have trusted my life. From them I ask, if not forgiveness, understanding as I try to convey how my heart feels about a place and a people who provided me such a solid place to plant my boots. Yessir: Nobbern.

This play is in its infancy. There are miles to go. No matter how that journey unfolds, this I already know: as a citizen, the single most meaningful thing I have ever done is serve 12 years beside my neighbors on the New Auburn Area Fire Department.
A long time ago a musician friend of mine said we should find a way to put Population 485 onstage. I kept saying I didn't have time. Then I cornered myself with a deadline. Then I holed up and wrote. And rewrote. And then I went looking for help. And then I rewrote. And then we did this:
Other thank yous: Molly Wilson (all photos in this post), Ann Sessions, The Chippewa Valley Theatre Guild, Char Xiong, Chippewa Valley Technical College. Tom Bischel. New Auburn Area Fire Department, Pat Williams, Jennifer Laundrie, Tom & Kathy Lindgren, Mike Miller, Tony Laundrie, Steve Turek, Judy Clark, Dr. Alan Rieck, The University of Wisconsin-Eau Claire, Hannah Farr, Joe Alf, RT Vrieze, Alissa Freeberg, Zach Halmstad & JAMF, Liam and Evan Lindgren, Jennifer Golat, Barry Inman, Tabitha Taitro. Emergicare and Township for letting me stay active.
And finally, this guy: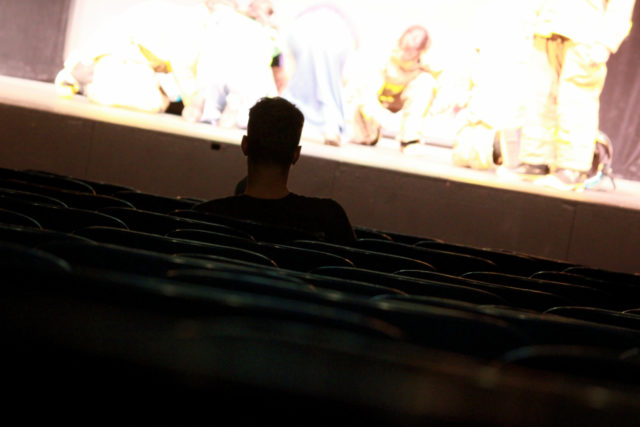 Thanks, Jake.