DANGER: MAN WORKING (Introduction)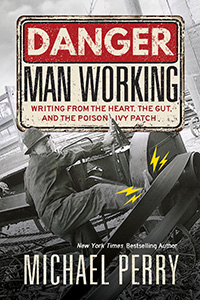 Pre-order this book now, right here.
Introduction
Every writer has advice for aspiring writers. Mine is predicated on formative years spent cleaning my father's calf pens: Just keep shoveling until you've got a pile so big, someone has to notice. The fact that I cast my life's work as slung manure simply proves that I recognize an apt metaphor when I accidentally stick it with a pitchfork.
I often wish I were purely artful. I am forever indebted to the true poets who led me to fall in love with words afresh and anew relatively late in life—after college, when I had a nursing degree and a good job, and figured I was on my way. The poets detoured me with words, immersed me in words, imbued me with the idea that I might want to write words.
I took the leap, and I have never regretted it. But perhaps because I made the leap late—after working on Dad's Wisconsin farm, as a Wyoming ranch hand, as a construction gofer, as a roller-skating Snoopy, on a mental health unit, for a surgeon, on a neurological rehabilitation unit, weekends on the ambulance—I was pretty clear-eyed about the likelihood that I could pay the rent with poems alone. And so I read everything I could about freelancing, and started shoveling.
So it goes until this day, and so it will always go unless I sell a million.
The pieces in this collection are drawn from the past fifteen years of shovel time. We (each piece and this book itself only came to be through the work of excellent, encouraging, and patient editors) divvied them up in sections, but the idea that there is thematic flow is superficially imposed. Basically what you have here is me going to work as the work is offered. There are essays on puke, sweat, and cholesterol. Articles with—and you'll recognize them when you read them—"service" sentences, in which the editor has instructed the writer to deliver some "actionable" information. I hope the inclusion of these more prosaic pieces speaks to the fundamental element of writing as work. It's lovely to weave a wicker chair, but sometimes the client (and proxy mortgage payer) wants a stackable straight-back. Pure art, nope. But even in these pieces, you try to pay attention to the rhythm of the prose, try to paint evocative scenes, try to sneak in a wink, a grin, a moment of compassion.
Some of the pieces are dated—in both reference (Jimmy Swaggart and Paris Hilton, anyone?) and style, and sometimes embarrassingly so. (In the department of Recurring Themes, it quickly becomes obvious that I am a self-absorbed hypochondriac forever resolving to do better nutritionally and fitness-wise but my follow-through is laughable.) There were times I wanted to cut or revise a word or passage that grates on me now in a way it didn't then (a few offhand lines about women and one about incarceration really reddened my face). But in most cases I've decided it's best to just lay it out there the way it was in hopes that it stands as evidence to some improvement of thought and style on my part. That a knucklehead might evolve.
Then there are those pieces where I was turned loose, free to write as I pleased. These are my favorites. The ones that take me on flights reminiscent of how I felt in those early poetry days. When you are allowed to trade the shovel for wings, even as you stand there in your boots. Rereading those pieces, I was filled again with gratitude for this lifelong sidetrack.
And finally there are those stories—the very first piece in this collection chief among them—in which I realize once again that as a writer, I find my greatest privilege lies not in telling my story; it lies in being trusted to tell the story of another.
To be sure you don't miss one of Mike's books or performances, please sign up on the mailing list.