Even at my non-famous level (9 out of 10 times no one recognizes me at the Farm & Fleet) (and then half the time it's a relative, neighbor, or Moose Country 106.7 listener), my calendar is such that I meet many, many thoughtful people in passing and simply cannot do justice to their kindnesses or adequately recognize their hard work or support their latest project the way they might hope. I keep a box of books and notes and CDs and miscellaneous objects given to me on the road, and when I can I jot a note or make a mention. Thus, Posts from the Box.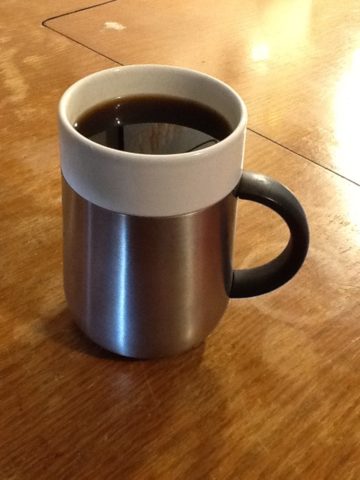 My favorite coffee cup. Given to me by a reader who remains to this day one of only two unrelated people to recognize me in an airport. You don't need lectures on aesthetics from a lunk like me, but this cup: porcelain rim and interior for pure coffee experience, brushed stainless steel for sturdiness and machinery vibe, rubberized base and handle to reduce clunking and assist the clumsy.
So many kindnesses along the way, and some revisit me daily.