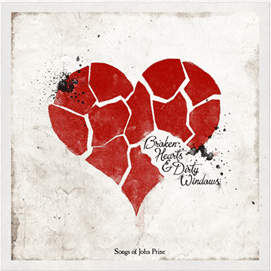 Every since I was introduced to his music on a cassette in a boombox played by my friend Gene in a basement while playing darts (follow that?), John Prine has been a leading literary influence (yep, literary – musical of course, but primarily literary) on my writing.
Yesterday, Oh Boy Records released "Broken Hearts & Dirty Windows," a tribute album on which a wide array of artists honor Prine by covering his songs.  The first song on the album is "Bruised Orange (Chain of Sorrow)" covered by friendly neighbor Justin Vernon of Bon Iver.
I have never met John Prine, but it is among one of the more unexpected honors of my haphazard life that I was invited to collaborate with Justin on the liner notes for the album.  The final revisions were completed at my desk, but I marked up the rough draft while sitting in a deer stand.
Thanks, Justin.  And thank you, Mister Prine.
I previously posted about Prine performing a song from the album on David Letterman.