Time speeds along faster than a chicken coop on wheels!  The very first paperback copy of Coop arrived via the UPS truck last week, and we are now able to take orders (all orders will be signed by Mike).
Here's the cover: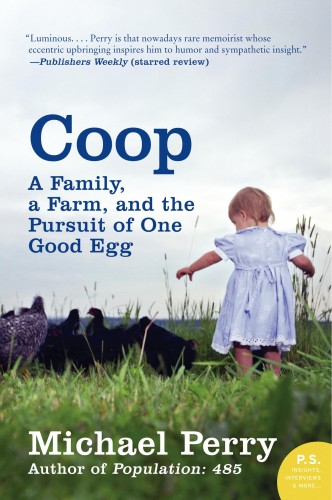 Yep, those are our chickens, and that's our tyke herding them.  She had only recently learned to walk when the photo was taken.  Now she's threatening to read the book herself.  Once again, this cover was the work of our friends John and Julie.
As you can see, the book has a new subtitle.  On the hardcover, the subtitle was "A Year of Poultry, Pigs, and Parenting."  I've never had a book come out with two separate subtitles before.  There were meetings involved.  I believe we are attempting to broaden the demographic, as they say.  I'm plumb happy with my current demographic, but welcome any newcomers.  Question is, does this make the hardcover (signed copies still in stock!) even more valuable as a collector's item?
By the way, this paperback version is a "P.S." model, which means it includes an author interview and a new essay by Mike updating events (feral guinea hens, anyone?) since the hardcover release.
I'll be on paperback tour in May and April.  We've added tentative dates to the calendar with more details to follow soon.