Bald-Headed Author on Video
Videographer (and author) Steve Betchkal came by the farm recently and asked me about writing, New Auburn, and why it's funny when someone gets hit in the head with a wrench.
The piece includes footage of my beloved hometown, and Steve even tracked down two of my high school teachers.  He also interviewed Jay Moore, the host of the Moose Country morning show.  I've written about Jay and Moose Country radio in Population 485 and Truck: A Love Story.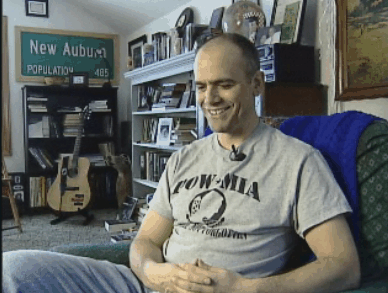 The full length, uncut interview is also available.  I yap about my dad's first milk cow, more about why I love New Auburn, the emergency service I run with now that I'm in a new township, and what my childhood neighbor Ramona said about me using big words.  You can see one of my most cherished possessions – the genuine "Population 485" sign – in the background.  At the end there is also footage of me performing two Long Beds songs, Unplugged style.  By the end, the sound and image aren't quite in sync, but you'll get the idea.  I myself am not in sync.