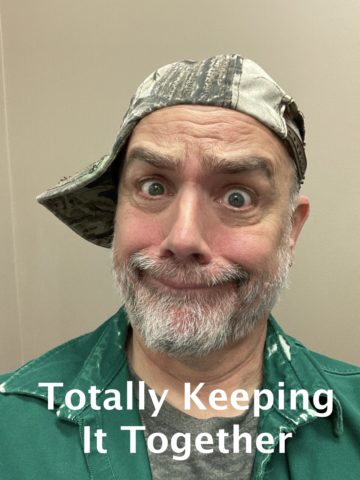 Howdy folks:
It's been a long year and the squirrely-ness has settled in.
When not Zooming into your living room via various livestream events, Mike has been hunkered down and churning the creative loam (sounds like a fancy way of saying, "Dad I got the tractor stuck"). There are four books in the works and a bunch of other projects in the "might maybe happen" stage.
The latest thing? Mike's TV specials from PBS Wisconsin are now available on DVD. Michael Perry: Where I Come From and Michael Perry: How Ya Doin'? are both available for sale at the Sneezing Cow store.
In addition to the DVDs, in the last 12 months, Mike released 3 books, 2 singles with the Long Beds (each song complemented by a music video), those DVDs, and a t-shirt–all available at the Sneezing Cow Store.
All 3 of the books are collective works. Big Boy's Big Rig: The Leftovers revisits some of Mike's work from the 1990s, when he was a magazine freelancer hustling books off a card table at craft fairs. Million Billion and Peaceful Persistence are both collections from Mike's "Roughneck Grace" columns at the Wisconsin State Journal.
Mike and his band the Long Beds released two new songs, Little Bird and Forty Acres Deep. Little Bird features Mike's daughter on backing vocals and both songs had accompanying videos: Little Bird video, Forty Acres Deep video. If streaming ain't your thing, you can also download Little Bird here and Forty Acres Deep here from the Sneezing Cow Store.
And lastly, a new t-shirt is available to match the cover and sentiment of the book, Peaceful Persistence. Two colors are available and you can grab yours here.
You can also now find all of Mike's music at Bandcamp for streaming and sale.
All additional music and spoken audio albums are also available on all platforms digital:
I Got it From The Cows (THIS ONE HAS WEIRDLY BECOME A DIGITAL HIT AND WE CAN'T EXPLAIN IT…THOUSANDS OF STREAMS. REALLY. MIKE RECORDED IT ONE NIGHT IN A COFFEE SHOP A LOOOONNNNG TIME AGO.)
And last but not least, if you missed it or wanna to see it again, Mike and the band streamed a live concert from the Pablo Center in Eau Claire, WI. You'll want to see the look in his eyes when his daughter joins him on vocals. Also the look in her eyes when she realizes Dad wandered off on the wrong verse. You can watch it here.
Thanks for all your support during these tricky times. Hope you're taking good care of your neighbors and they you. See y'down the road!
The Sneezing Cow crew
P. S. Have you heard about Mike's voicemail? Go here (https://michaelperry.substack.com/) for more details.