Tall Pines Conservancy Fundraiser (Ride to the Barns)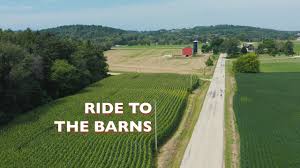 On February 25, 2021, Tall Pines Conservancy will be presenting "An Evening with Michael Perry" as part of an important fundraiser to support the farmland conservation and water-quality initiatives of Tall Pines Conservancy.
While most of you know what Mike does, we'd like to let you know what Tall Pines Conservancy does in a series of videos leading up to the event day. If you are interested in attending, more event details are here.
Here is a video about Ride to the Barns.
Ride to the Barns is an annual fundraising bicycle ride through Lake Country and rolling farmland in Waukesha, Washington and Dodge counties. Rest stops include farms serving locally produced food to highlight farmland preservation.