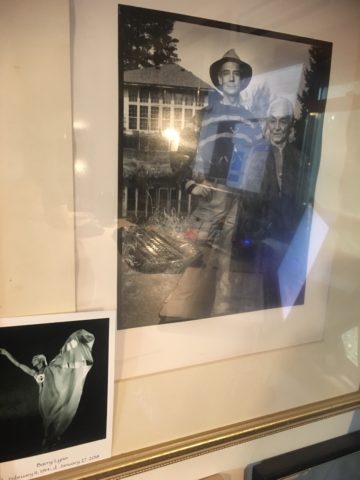 This portrait hangs beside my writing desk. Michael and Barry. My keyboard reflected in the glass. A few months ago a big trucker in a sleeveless t-shirt came to the library where I was speaking and waited at the end of the signing line to tell me the things I've written about Barry changed his feelings. To understanding, he said.
Day to day I bumble. Tend to get it wrong before I get it right. Riddled with self-doubt. But wherever that trucker is rolling today, I hope he knows how grateful I am he waited in that line. Through dance, story, and character, Barry changed me. And now–in the best way–he goads me from beyond the grave. The piece below is the one I performed at the Eaux Claires festival…it begins with Barry, then takes me other places.
As he did.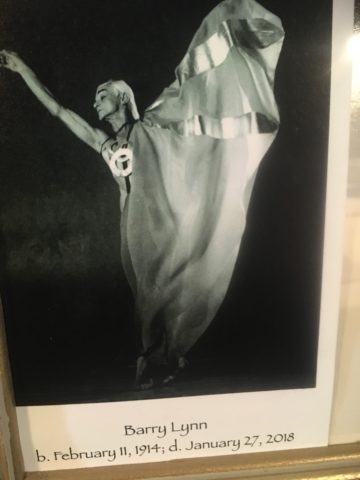 Let me tell you of a dancer who wore his soul on the outside
In the form of scarves and sparkle and a footfall symphony
Who stepped from the tobacco fields into a plié
Then pirouetted for 100 years, ONE HUNDRED YEARS
Dancing through Jack Mormons and timberjacks and snickers at the IGA
In time he found a still place, a still place beside moving water
Died there in the arms of a man who loved him
Loved him like you dream someone will love you one day.
My people are loggers and farmers and truckers…the men, too.
I wear these steel toe boots not because I need them for the dangerous work of poetry
But because I need them to keep me humble
to remind me what it is to dodge the Widowmaker
of what a privilege it is to parcel out prose, poems and piffle
but to remind me that yes, I too am at work,
my poet dollar buys the same as the 2×4 dollar
to remind myself that they pitch us into these pissin' matches
hoping we won't notice we are forever pissin' into the wind
generated by a man screeching hate from a rich distance
hoping we won't notice we are pissin' our own boots
hoping we won't notice we have come to trust the man in the distance
more than the human in the boat beside us.
Here is my religion: How you treatin' my family? Mi familia? How you treatin' my neighbors? 
How you treatin' the least among us?