Over the next year, Harper Perennial is re-releasing my paperbacks with new covers, each designed by the same artist who designed the cover of The Jesus Cow.
New cover art always elicits varying reactions, including from me, but in short, I'm grateful my publisher is doing this, as it is a way for all of my backlist to have a similar look, thus making it easier for new readers to identify them as a group despite their various subjects. Also, as I have learned over the past 20 years, change often leads to unexpected new opportunities.
First up is Population 485: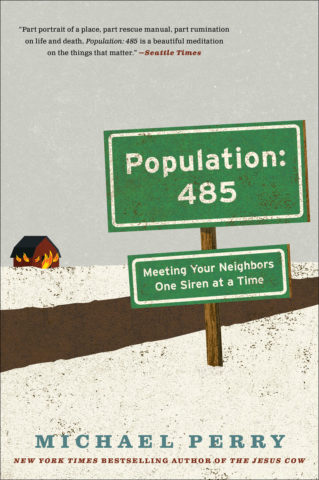 The original cover of Population 485 will always be my favorite, in no small part because it was created by my dear friends John Shimon and Julie Lindemann, who have been an integral part of my work since the 1990s. As such, until they run out, we'll be keeping some copies of the classic cover in stock here at the Sneezing Cow store. But we've also set up this fun deal: All orders for copies of the new edition will include an autographed copy of an early "Population 485" paperpack promotional postcard (which features the original cover art by Shimon Lindemann) signed by Mike.