Hedberg Public Library Book Fest with Author Reception to Follow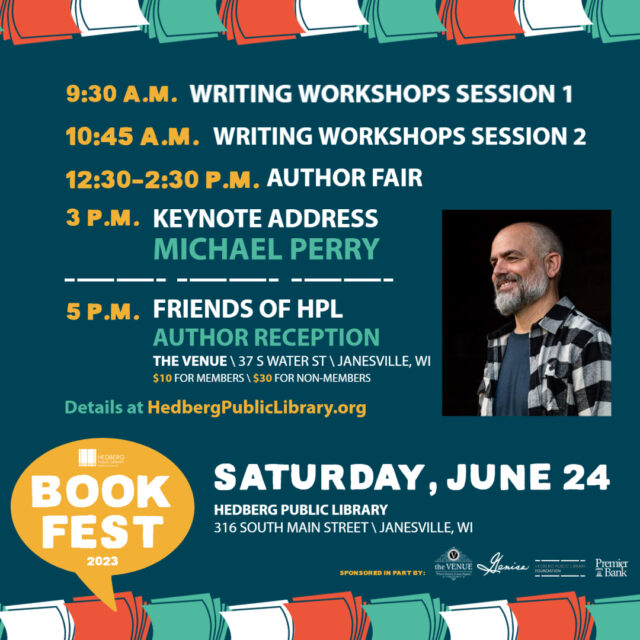 A book sale and signing will follow the program and then an Author Reception will be happening offsite (two blocks away). Author Reception details below.
The Hedberg Public Library Book Fest features Michael Perry, a New York Times bestselling author, humorist, playwright, and radio show host from New Auburn, Wisconsin. Perry's bestselling memoirs include Population: 485 (also adapted for the stage), Truck: A Love Story, Coop, Million Billion, Peaceful Persistence, and Hunker. Among his other dozen titles are The Scavengers (for young readers) and his novel The Jesus Cow. Perry's most recent book, the novella Forty Acres Deep, is currently in its second printing.
Raised on a small Midwestern dairy farm, Perry put himself through nursing school while working on a ranch in Wyoming, then detoured into writing. He lives with his wife and two daughters in rural Wisconsin, where he still makes an occasional call with the local volunteer fire and rescue service. He hosts the nationally-syndicated "Tent Show Radio," performs widely as a humorist, and tours with his band the Long Beds. His three live humor albums include Never Stand Behind A Sneezing Cow and The Clodhopper Monologues. He can be found online at www.sneezingcow.com. Michael also hosts a subscription audio newsletter at www.michaelperry.substack.com.
All ages are welcome. This portion of the event is free. 3PM – 4PM
Hedberg Public Library
316 S Main Street
Janesville, WI 53545
Author Reception (this is a ticketed event – tickets available here)
Book Fest: Friends of HPL Author Reception. 5PM – 7:30PM
The Venue
37 South Water Street, Janesville, WI
Sponsored by HPL Foundation, Friends of HPL, PremierBank, The Venue, and Genisa Wine Bar.
Dinner catered by Genisa Wine Bar// Cash Bar// Special Reading by Michael Perry
BUY TICKETS HERE
$10 – Friends of HPL Members
$30 – Non-Members (includes 2023 Friends of HPL membership)