John Deere funerals, Steve Earle, Brandi Carlile, guitar girls, roosters, pigs, skunks, ambulance karma, love, death, reasonableness, cheaters, dangerous wedding rings, sweaty cheese, the black dog, dumpsters, daughters…signed copies of From the Top, a collection of Mike's "intermission" monologues from his first few years hosting the nationally-syndicated Tent Show Radio program are now available at discounted price of $9.99.  Get your copy (or one for a friend) right here.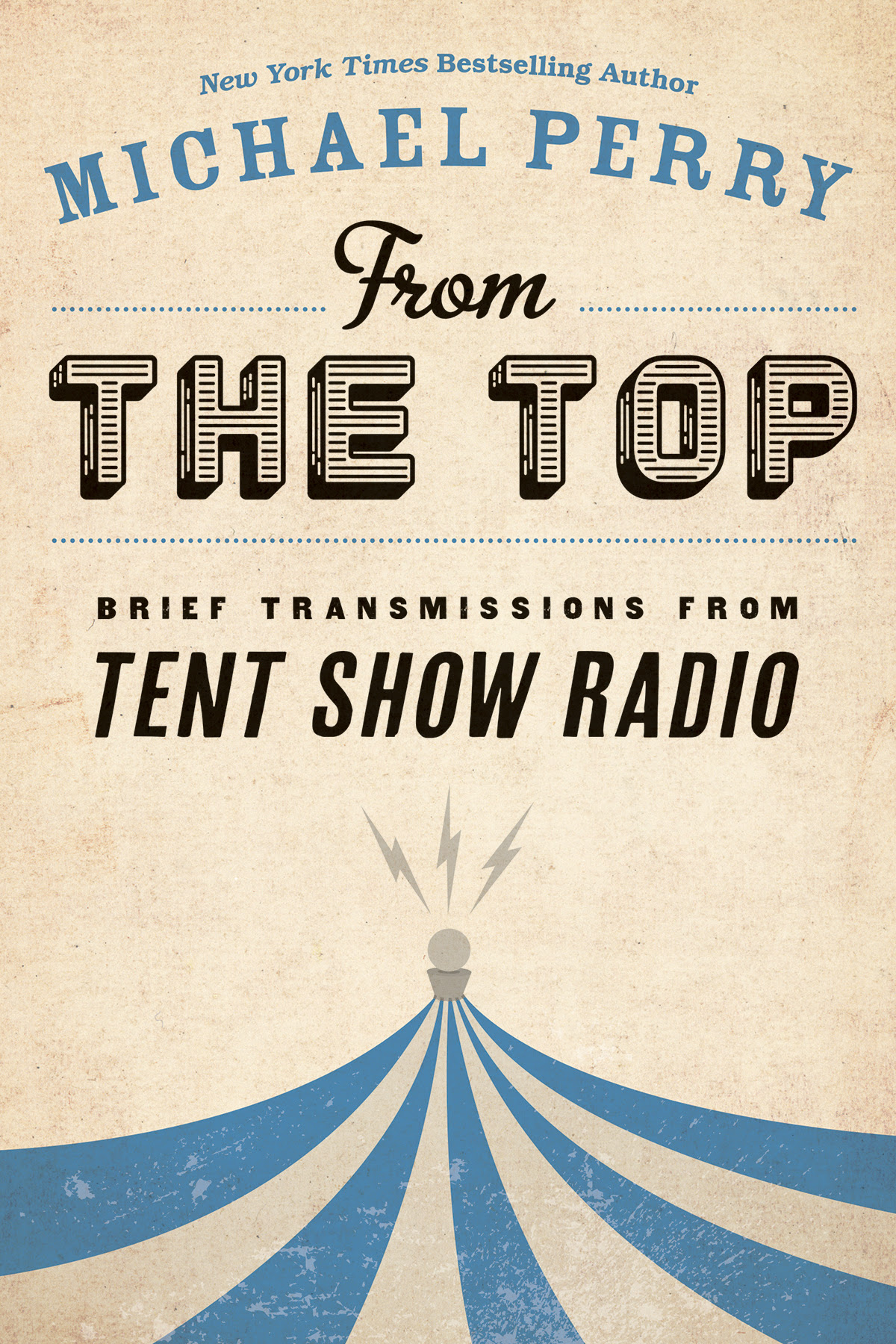 Note from Mike:
A guy told me once this was the perfect bathroom book. Then he got embarrassed and started to apologize. I said, Man, I don't care where you read it.
I think (I hope) what he was referring to was the pieces are short. Have to be, since they're written to fit a six-minute window. And because I had to come up with a new one every week, I wrote about whatever came to mind or was at hand. Sometimes it was goofy stuff, like why my brother the logger wears clogs, or why you should have bacon in your stock portfolio, or topics including sweaty cheese, injured cereal, or the long-term psychological effects of my grandma putting a picture of my brother and me in the local "Pet of the Week" newspaper announcement.
Other times I'll write a piece simply based on a new word I've learned, which is why you will run into the phrase "hesternal funk."
And then there are the pieces like "Guitar Girls," or "John Deere Funeral" or "In the Wake of the Wake," that are straight from the heart. These are stories about neighbors and loved ones, about our elders and our children, about those tiny instants otherwise lost to history. "Chicken Coop Campout" describes the night my elder daughter "who is almost as tall as me" and I took sleeping bags and spent the night in our brand-new coop before we let the birds take up residence. That daughter is now four inches taller than I and graduating in a couple of weeks. When I read the part about how we "giggled and spoke in the voices of imaginary chickens," I felt–as every parent will–waffle-stomped by the passage of time.
Above all and always, I'm grateful I've been allowed to arrange words and have them read. It's a privilege, and I don't take it for granted. Thank you.
Favorite trivia about From the Top? It's printed on Wisconsin-made paper. I didn't know that until after it came out. It's perfect, because when I was born, my dad was working in a Wisconsin paper mill.