The Scavengers Audiobook Now Available plus Prize Package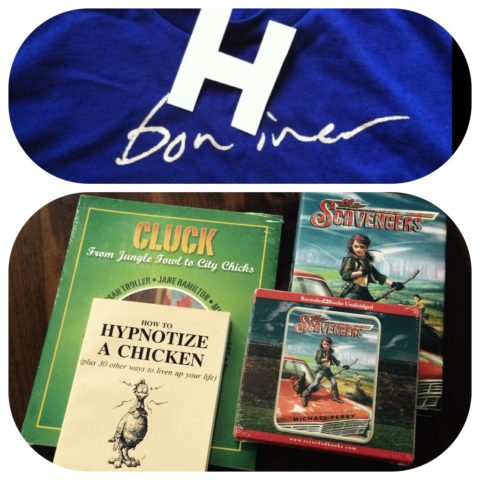 We're pleased to announce The Scavengers audiobook is now available and can be purchased here.  Customers who purchase The Scavengers audiobook (CD version) or hardcover book from the Sneezing Cow website between now and March 31st will be entered in a drawing for The Scavengers prize package (three winners will be chosen).
The package includes:
Bon Iver T-shirt ((Size XL or L, luck of the draw)).  This is the actual T-shirt that inspired the "Bon Hiver" T-shirt worn by Maggie/Ford Falcon's father (see chapter 9).
How To Hypnotize a Chicken.  Maggie (Ford Falcon!) should have read this book to deal with Hatchet. It was written many years ago by a young writer who at that time called himself "Michael Ryan." The book is pretty embarrassing to the author all these years later, but the chicken hypnosis instructions are absolutely spot-on and will work.
Cluck: From Jungle Fowl to City Chicks.  An anthology of chicken photos and essays that includes additional chicken hypnosis instructions by Mike.
Good luck!