Up There In The Big Blue Tent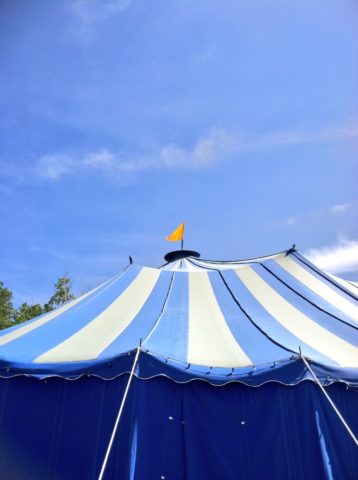 Tomorrow will be a full day. First: Feed the chickens. Second: Load the car with books and guitars. Third: Bid wife and daughters adieu (also acceptable: "See y'later.") Fourth: Point car north.
Yep, it's another Lake Superior Big Top Chautauqua performance up there in the Washburn/Bayfield area. Tomorrow night the Tent Show Radio crew and I will be sharing the stage with the Blue Canvas Orchestra, The Okee Dokee Brothers, and Laughing Fox. For more show info including times and tickets, please click here.
Also note as part of the Essentia Health Free Family Series, a special Okee Dokee Brothers free show at 1 p.m. All ages welcome, no reservations or tickets necessary. A great way to introduce younger folks (well, anyone, really) to the tent.
If you're up there early, please consider visiting show sponsor Madeline Island Museum. When I posted this previously I received several positive comments about the museum and more than one person mentioned that it's a wonderful place to take children.
Finally, if you've read down this far, congratulations: Rumor has it that I'll stop by Apostle Island Booksellers at 12:30 p.m. tomorrow to shoot the breeze and sign books. Please don't tell anyone as we're trying to keep it a secret. You know, so the huge crowds don't block access to Big Water Coffee, which would be a problem for me.