Sneezing Cow Auction Items of the Day
As announced here, we're holding an eBay auction in support of Mike's hometown food pantry.  The auction closes on December 8, so between now and then we'll highlight some of the items for sale.
NOTE: Because there are duplicates of some items, all links go to the general listing so you can select the specific lot upon which you wish to bid.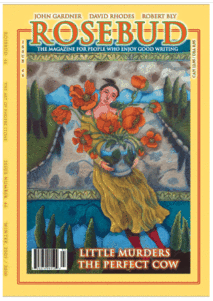 Usually after Mike (hello, third-person!) performs his artificial bovine insemination routine (!) he performs a piece called 'The Perfect Cow," which is an, err-umm, very (obsessively?) detailed description of his Dream Cow.  Then he gets emails wondering if the piece is in print anywhere.  It has only been printed once, and that was in the very issue of Rosebud being offered for sale in this auction.  Bid here. Mike will personalize each copy upon request.  He will happily include some reference to the finer points of artificial bovine insemination.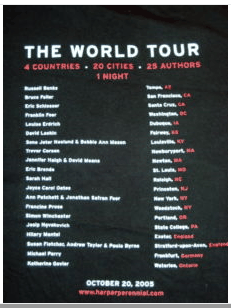 Book tour t-shirts.  Please note there are several different t-shirts in different sizes.  These were made up for a book tour in which Mike went to Germany to celebrate the German-language release of Population 485.  Partway through the tour I discovered that the German publisher had gone kaput and there as no book.  Had a good time anyway, and sang a song on the same stage as Lemmy from Motorhead (he was there the night before, but still…).  For a full listing of all the other authors on the shirt, go here.  Mike will gladly personalize the t-shirt using his Special Silver Sharpie.  He will not write anything in German.  Except: kaput or Motorhead (with gratuitous heavy metal umlaut).