Sneezing Cow Auction Items Of The Day
As announced here, we're holding an eBay auction in support of Mike's hometown food pantry.  The auction closes on December 8, so between now and then we'll highlight some of the items for sale.
NOTE: Because there are duplicates of some items, all links go to the general listing so you can select the specific lot upon which you wish to bid.
This collection of stories from Runner's World magazine includes a piece I wrote about Olympic marathoner Ryan Hall.  I traveled to California and spent time with his family, went to church with him, and spent some time at the Olympic Training Center in Chula Vista.  The essay addresses the intersection of Hall's athleticism and faith.  I also went for a run with Hall and kept up just fine.  It was just a two-mile run.  And on a recovery day.  He ran real slow.  Plus, I rode a bike.   Bid here. Mike will personalize the book upon request.  He will even happily inscribe "5:50″ (his most recent mile time) just to keep Ryan Hall looking back over his shoulder…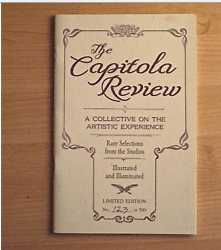 The Capitola Review is a handcrafted, numbered, limited edition publication.  This issue contains the poem, "Critics Say: Wisconsin Poets Obsessed by Weather," by Michael Perry.  Also lyrics by Mary Gauthier.  This project is spearheaded by the gentle, cafe-friendly, and fabulously-named Richmond Powers.  Bid Here. Mike will personalize upon request…he cannot, however, sign Mary Gauthier's name.